Anghami - Play, discover & download new music
4.7.955
Music Player – Stream Arabic and Middle-Eastern Music
Are you a fan of Arabic music? Do you want to stay up-to-date with the latest song releases by middle-eastern artists? If yes, then this music player is a must-have app for you. Anghami – Play, Discover & Download New Music is a nice app that lets you listen to your favorite middle-eastern singers and discover new Arabic music. It provides them the opportunity to stream both new and old Arabic songs. You will be given the chance to create a music library of your own and add songs to it that you like. As new music becomes available, you will be notified immediately so that you can enjoy it too. If you want to listen to your favorite songs offline, you can download them to your device.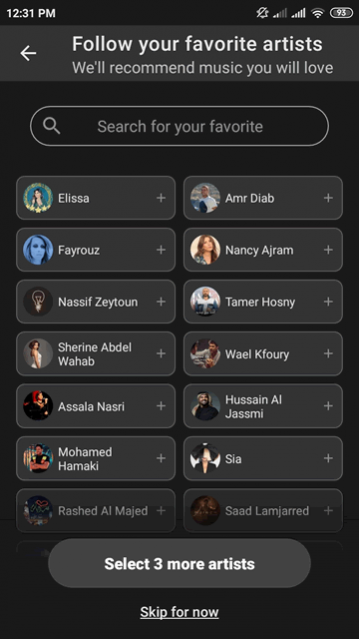 Anghami – Play, Discover & Download Music has an intuitive user interface that combines well with its beautiful design and layout. You will have no issues in finding and playing the music that you like on this music player. However, do keep in mind that this app requires you to buy a subscription plan before you can stream any music. There are different subscription plans on offer and each has a different price. If you want to test the streaming services offered by this app, you can avail the 15-day free-trial offered to you. During this trial period, you will get to enjoy all the premium services without having to pay a cent. Also, you can cancel the free-trial whenever you want.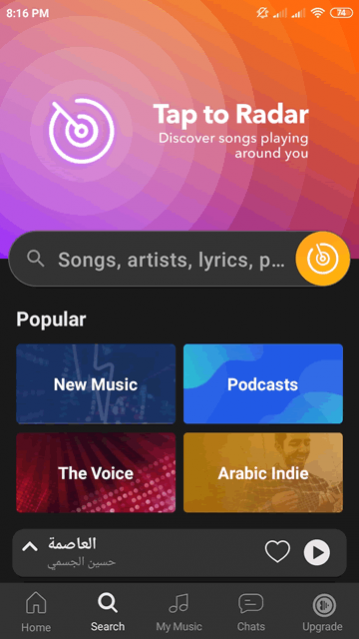 This music player is the number one music-streaming platform in the MENA (Middle-East and Northern Africa) region. You can stream music from various countries in the region on this app. New music is added daily, so you will never run out of music to listen to. You just need an internet connection to listen to your favorite tracks from all your favorite artists. There are also songs available from international artists as well. This music player lets you create playlists of your choice by adding songs that you like. It also recommends songs to you based on the singers you listen to and the kind of music you enjoy. Aside from creating playlists, you are given the option of downloading songs to your device in this app.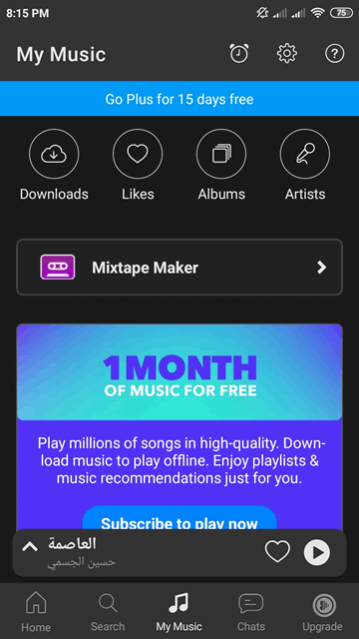 Anghami – Play, Discover & Download Music offers you mixtapes too. These mixtapes are organized according to your mood. You can select any of the mixtapes on offer and listen to non-stop music for as long as you want. The premium version of this music player even allows you to see the lyrics while listening to the songs. This feature isn't available for all the songs, though. Anghami also gives you the opportunity to find people who listen to the same kind of music as you. However, this would need you to sign-in using your social media accounts like Facebook or Twitter. You can also create an account on the app using your email ID.
Features:
Intuitive user interface
Beautiful design and layout
Listen to lots of middle-eastern artists
Play your favorite Arabic tracks
Download songs you like to your phone
Play mixtapes according to your mood
Discover new songs and artists
See lyrics of the tracks while listening to them
Make your own playlists and listen for hours
Get song recommendations based on your music taste
Different subscription plans available
Conclusion:
Anghami – Play, Discover & Download New Music is an app that is aimed at people who love listening to Arabic and middle-eastern music. It allows them to play songs of their favorite artists from the Middle East and discover new releases. It is an excellent music player and you should have it on your phone if you are a fan of Arabic music.
---
Add a review
Tell us your experience with
Anghami - Play, discover & download new music
4.7.955
RELATED PROGRAMS
Our Recommendations
---
---
---
---